Description
Earth's Best Organic Dairy Infant Formula with Iron 0-12 months Online Now
Earth's Best Organic Dairy  Infant Formula with iron 0-12 months is produced from organic milk from cows fed certified organic grain and hay. Also this formula contains no added corn
Patterned after breast milk: high quality protein, carbohydrates, vitamins, minerals and essential fatty acids (DHA & ARA).
Features:
Firstly Contains Omega 3 and Omega 6
Following – Uses organic dairy ingredients
Iron fortified
Finally Kosher certified
Ingredients for Earths Best Organic Infant Formula:
Organic Lactose, Organic Skim Milk, Organic Plam Oil, or Palm Olein,, Organic Whey Protien Concentrate, Organic Soybean Oil, Organic Coconut Oil, Organic High Oleic (Safflower or Sunflower) Oil, Organic Soy Lecithin, Mortierella Alipina Oil (Arachidonic Acid), Crypthecodinium Cohnii Oil (Docosahexaenoic Acid), Taurine, Cytidine-5′-Monophosphate, Mixed Tocopherol Concentrate, Disodium Uridine-5′-Monophosphate, Ascorbyl Palmitate, Adenosine-5′-Monophosphate, Disodium Inosine-5′-Monophosphate, Disodium Guanosine-5′-Monophosphate.
Minerals: Calcium Chloride, Calcium Hydroxide, Cupric Sulphate, Ferrous Sulphate (Iron), Magnesium Chloride, Manganese Sulphate, Potassium Bicoarbonate, Potassium Hydroxide, Potassium Iodide, Potassium Phosphate, Sodium Citrate, Sodium Selenite, Zinc Sulphate.
Vitamins: Ascoribic Acid (Vitamin C), Beta-carotene, Biotin, Calcium Pantothenate, Choline Chloride, Cyancobalamin (Vitamin B12), Folic Acid, Inositol, Niacinamide (Vitamin B3), Pyridoxine Hydrochloride (Vitmain B6), Riboflavin (Vitamin B2), Thiamine Hydrochrloride (Vitamin B1), Vitamin A Palmitate, Cholecalciferol (Vitamin D3), dI-Alpha Tocopheryl Acetate (Vitamin E), Phytonadione (Vitamin K).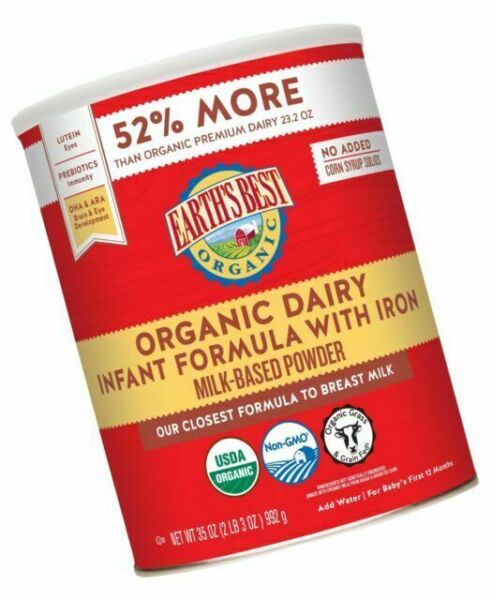 Firstly Earth's Best Organic® infant formulas with iron are fortified at 12 mg per 1 Liter or 1.8 mg per 150 mL serving which contains 100 calories.
Fouthermore for infants who are exclusively formula-feeding, the AAP recommends an iron-fortified formula. Although only 4 percent of the iron contained in formula is typically absorbed by the baby's intestinal tract, iron-fortified formula contains enough of the nutrient to meet the baby's needs.
If you want a formula made from USDA-certified organic ingredients, we recommend Earth's Best Organic Infant Formula (around $1.15 per ounce). It's the least expensive organic formula we found that has lactose as its only carbohydrate, and it contains extra nutrients.
The RDA for infants is 0.27 mg/day from age 0-6 months, which can be met through breastfeeding or bottle-feeding with an iron fortified formula. Infants 7-12 months need 11 milligrams of iron per day, while toddlers 1-3 years old need 7 mg/day.
Generally at about 6 months of age, an infant's iron needs can be met through the introduction of iron-rich foods, iron-fortified cereals, or iron supplement drops. Learn more about iron-rich foods that support an infant's healthy development.
Are there heavy metals in your baby food? Heavy metals are naturally occurring and exist in the soil, air and water all around us. Small amounts of these metals can be absorbed by food as it is grown. As a certified organic brand, Earth's Best does not use any pesticides that contribute to increased levels of metal.
buy earth's best organic infant formula with iron 0-12 wholesale canada
buy earth's best organic gentle infant powder formula atlanta
earth's best organic formula reviews infants
earth's best organic gentle infant powder formula
wholesale earth's best organic formula reviews infants
earth's best organic infant formula with iron 0-12
earth's best organic infant formula with iron 0-12
buy earth's best organic infant formula with iron 0-12
earth's best organic infant formula with iron 0-12
earth's best organic infant formula with iron 0-12
sale earth's best organic infant formula with iron 0-12
earth's best organic infant formula with iron 0-12
earth's best organic infant formula with iron 0-12
earths best organic infant formula with iron 0-12