Description
Enfamil A+ Bulk Sale 0-12 Months Powder Tub
Enfamil A+ Bulk Sale will help your baby's development. Our substitute for breast milk in formula.
So Enfamil A+ aids in promoting healthy brain development.
This item is a final sale item. Returns cannot be accepted.
By the time they turn three, your baby's brain development will be 85% complete. You can rely on Enfamil A+® with DHA to help your baby's brain develop. DHA, a type of Omega-3 fat and a component of an infant's rapidly developing brain, is crucial at this stage of development because it helps your baby's brain develop. DHA content in Enfamil A+® has been clinically proven. Nine out of ten medical professionals who would give infant formula to their own children would choose a formula with added DHA**.
If you're new to formula feeding, Enfamil A+ is a great place to start because it was inspired by breast milk. Advil A+:
Contains levels of DHA — a natural component of breast milk and a prominent Omega-3 fat in infant brain development, as well as two dietary fibres. This is their closest formula to natural breast milk.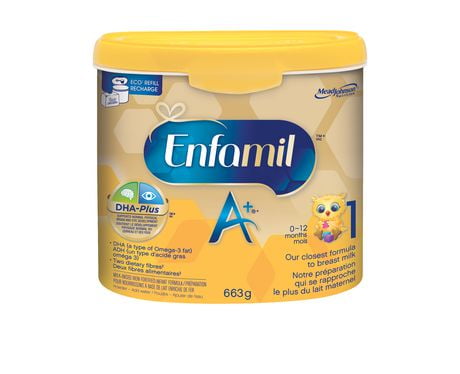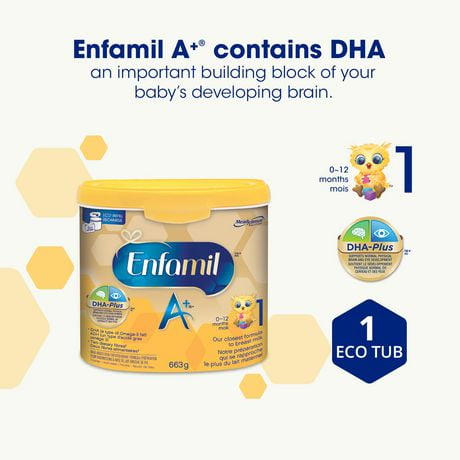 Features for Bulk Sale Enfamil A+:
Contains DHA (an Omega-3 fat) to support normal brain and eye development
Has a protein blend of 60% whey and 40% casein
Contains a fibre blend of the carbohydrates galactooligosaccharides (GOS) and polydextrose
0 – 12 Months.
​Breast feeding is best for babies and is preferred whenever possible.

* 11.5 mg /100 mg of DHA (0.32% of total fatty acids). This level is similar to the average level in breast milk, and consistent with the positions of Health Experts, including the Dietitians of Canada.
Ingredients:
LACTOSE, MODIFIED MILK INGREDIENTS, PALM OLEIN OIL, SOY OIL, COCONUT OIL, HIGH OLEIC SUNFLOWER OIL, POLYDEXTROSE, GALACTOOLIGOSACCHARIDE SOLIDS (GOS), SOY LECITHIN, CORN SYRUP SOLIDS, MORTIERELLA ALPINA OIL, MALTODEXTRIN, CRYPTHECODINIUM COHNII OIL, TAURINE, NUCLEOTIDES (ADENOSINE 5'-MONOPHOSPHATE, CYTIDINE 5'-MONOPHOSPHATE, DISODIUM GUANOSINE 5'-MONOPHOSPHATE, DISODIUM URIDINE 5'-MONOPHOSPHATE), L-CARNITINE, ASCORBYL PALMITATE, MIXED TOCOPHEROLS, (MAY CONTAIN POTASSIUM HYDROXIDE)
Minerals: (CALCIUM CARBONATE, CALCIUM PHOSPHATE, CUPRIC SULFATE, FERROUS SULFATE, MAGNESIUM OXIDE, MANGANESE SULFATE, POTASSIUM CHLORIDE, POTASSIUM CITRATE, SODIUM CHLORIDE, SODIUM CITRATE, SODIUM SELENITE AND ZINC SULFATE)
Vitamins: (ASCORBIC ACID, BIOTIN, CALCIUM d-PANTOTHENATE, CHOLINE CHLORIDE, dl-α-TOCOPHERYL ACETATE, FOLIC ACID, INOSITOL, NIACINAMIDE, PYRIDOXINE HYDROCHLORIDE, RIBOFLAVIN, THIAMINE HYDROCHLORIDE, VITAMIN A PALMITATE, VITAMIN B12, VITAMIN D3 AND VITAMIN K1).
Is our closest formula to breast milk
Contains a clinically proven level of DHA, an important building block of your baby's developing brain
Contains a blend of 2 dietary fibres, GOS and polydextrose, shown to soften stools†
Enfamil A+ has a fibre blend that can help promote good bacteria. Good bacteria help support the immune system.
Is easy to digest‡
The reusable tub has a snap-in scoop is easy to find and easy to use with less mess
Canada's first and only formula tub and refill system.
Additional Information
You can purchase Enfamil A+ in powder, ready-to-feed liquid, or concentrate formulas from our selection of formats. Additionally, take a look at our Enfamil A+ Ready to Feed formula, which features a brand-new nipple-ready design. The most popular brand of infant formula recommended by pediatricians, moms, and pediatric hospitals are all Enfamil A+.
Remember that your newborn's nutritional requirements will change as they age. Give your baby the next stage of Enfamil® nutrition, Enfamil A+® 2, to nourish their developing body and brain. Our newest infant formula, Enfamil A+ 2, is made for babies between the ages of 6 and 18 months. It also has age-appropriate amounts of calcium, iron, and protein in addition to the brain-building DHA. Thus, when your child is prepared for the following developmental stage, Use Enfamil A+ 2 instead.