Description
Gerber Good Start Gentle Supreme Wholesale
(formerly A2 Powder Formula) provides your little one with advanced digestive support. Gerber Good Start Gentle Supreme Wholesale.
Firstly it is the first and only toddler drink with specially sourced A2 milk, probiotics, and prebiotic 2′-FL HMO*. A2 milk has a naturally easy-to-digest β-casein protein that is uniquely sourced from select cows that naturally produce only A2 milk.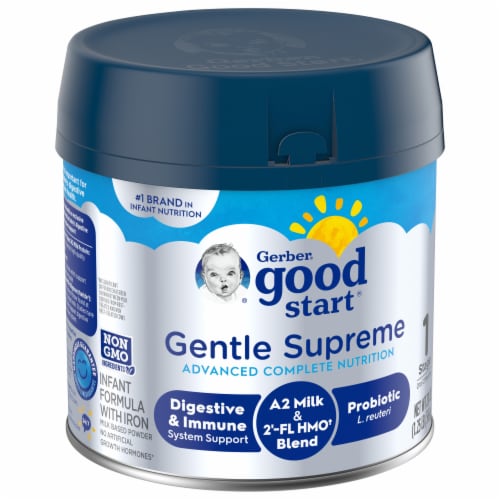 Furthermore A2 Toddler Drink is an alternative to regular cow's milk with emerging evidence that suggests A2 milk supports good digestive tolerance in children. We've combined the benefits of A2 milk with essential nutrients to support healthy growth and development.
*Human Milk Oligosaccharides. Not from human milk.
Firstly it's Naturally Easy-to-Digest Protein: A2 milk contains a special, high-quality β-casein protein
Uniquely Sourced A2 Milk: All of our A2 milk comes from cows that are carefully selected and naturally produce only A2 milk
Following Designed for Advanced Digestive Support: Gerber® Good Start® A2 Toddler Drink is an alternative to regular cow's milk with emerging evidence that suggests A2 milk supports good digestive tolerance in children. It is made with an exclusive combination of 100% A2 milk, probiotic L.reuteri and prebiotic 2′-FL HMO.
Finally Non-GMO: Not made with genetically engineered ingredients; no artificial growth hormones*
*no significant difference has been shown between milk derived from rbST-treated and non rbST-treated cows
gerber good start gentle supreme
gerber good start gentle supreme formula
gerber good start gentle supreme toddler